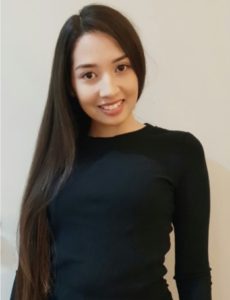 "My team & I are remedial perinatal massage specialists, committed to supporting professional women in their journey from pregnancy to motherhood."
Catherine Dore                                                                                                                   Koko Toyer
Pregnancy & Postnatal Massage Specialist                                                                   Pregnancy Massage Specialist
           Infant Massage Instructor
About Catherine Dore
– Owner & Perinatal (Remedial) Massage Therapist, Infant Massage Instructor
"It takes a village to raise a child"
The above quote is one of my favourites. When a village raises a child, the child grows up in a love-filled, nurturing community where parents are given the gift of sharing their parenthood with an entire support network.
My aim is to be just one hut in your village. Or in today's terms, one support hub in your Brisbane patch. Not only do I provide pregnancy massage, postnatal massage, remedial massage and baby massage classes, but I also offer a listening ear if you want it; and I'm humbled that many mothers trust me as their sounding board and/or confidant.
The village I offer you
Gateway
If you want it, I provide a gateway to a network of service providers and healthcare professionals who will help you navigate your way through this wonderful and challenging time of your life.
Interaction with other mothers
In my infant massage classes you'll not only learn baby massage techniques, you'll interact with other like-minded mums who are also juggling a new born baby with future preparations for returning to work.
My qualifications & memberships
Qualified Remedial Massage Therapist
Qualified Infant Massage Instructor with the International Association of Infant Massage (now known as Baby In Mind in Australia)
Pregnancy massage certification and Nurturelife prenatal massage practitioner with Pregnancy Massage Australia.
Member of the Australian Association of Massage Therapists (AAMT), now known as Massage & Myotherapy Australia
Professional Member of the International Association of Infant Massage (IAIM). This is the only nationally accredited instructor course training in Australia.
I have been a Remedial Massage Therapist for more than 9 years, with the last 7 years dedicated to pregnancy, postnatal & infant massage.  I have been very fortunate to have worked for several years in clinics and centres alongside Midwives, Obstetricians, Physiotherapists, Chiropractors, Osteopaths and a number of other wellness practitioners.
I believe the road to overall health and wellbeing often requires a multi-faceted approach, and that is why we regularly collaborate with other leading women's health professionals.
When I have a spare minute …
Spare minutes are rare, but when they come by you'll find me reading books and articles relating to all facets of wellbeing, including: immune function, touch, infant mental health, muscular dysfunction, biomechanics, and more. If you have any book recommendations, I'm always (a bit too) excited to hear from you!
Outside the clinic
When I'm not working you're likely to find me creating and decorating cakes! I also love the local food scene where I opt for low-key soul-food establishments who care more about their ingredients than their cocktail list. Got a great recommendation? Let me know!
I am also quite smitten with South America. If I'm not planning my next visit, I'm probably hanging out with my gorgeous (read: cheeky!) nieces and nephews.
About Koko Toyer
– Remedial Pregnancy Massage Therapist 
Koko has been a qualified massage therapist for more than 6 years. During this time she has gathered valuable skills and experience working with pregnant and postnatal women. Particularly during her time at a pregnancy centre, and also in spa settings.
Koko developed a keen interest and passion in child development and a genuine love for treating pregnant and postnatal mothers.  She also has a Bachelor of Health Science (Public Health), and is currently undertaking studies to become a Paediatric Occupational Therapist.
In her spare time, Koko loves to get out into the great outdoors to go hiking.
Koko's Favourite Quote
"May the work of your hands be a sign of gratitude and reverence to the human condition…" 
This inspirational quote by Mahatma Gandhi, focuses on the importance of being actively involved in making a difference in human conditions, as a way of showing respect in our society.  Coming from a big family, I drew much strength and inspiration from the women, specifically the maternal figures, who bore and raised many children (I have over 50 first cousins!)  I believe that the noble position of our mothers' are deserving of our deepest respect and support in society.